CAT6 vertical jack 180 incl. shutter, wit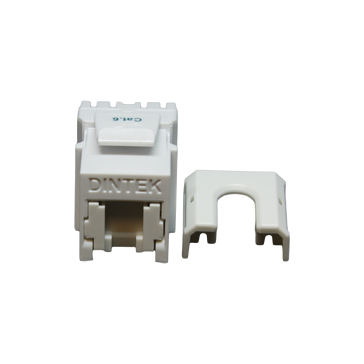 Product number: N1305-04043
PowerMAX™ : Gigabit High Speed Ethernet
CAT6 vertical type keystone ezi-JACK180, T568A/ B, wit - met afsluitingsmechanisme
De DINTEK PowerMAX™ CAT6 oplossingen overtreffen ruim de minimale snelheden zoals deze zijn vastgesteld in de Class E specificaties in internationale standaarden. Bent u op zoek naar oplossingen die optimale prestaties bieden, kijk dan niet verder dan de DINTEK PowerMAX™ CAT6 modulaire aansluitingen.
DINTEK CAT6 Jacks bieden prestaties die de snelheden van andere CAT6 compatibele hardware en componenten ruimschoots overtreft. Deze CAT6 jacks zijn ook backwards compatibel met componenten en systemen van minder goed presterende categorieën. Het ontwerp van deze jacks biedt de DINTEK installateur installatiegemak. Door het compacte design zijn deze goed te gebruiken in krappe situaties. Zo kunnen maximaal zes modules worden gebruikt in één faceplate. Gecombineerd met andere DINTEK PowerMAX™ producten, is dit de perfecte oplossing voor al uw VoIP- en datacommunicatie netwerk bekabelingsbehoeften.
Standards
UL Verified
ISO/IEC11801 2nd edition
ANSI/TIA Standard 568-C.2
CENELEC EN 50173
Applications
Voice; T1; ISDN
10BASE-T (IEEE 802.3)
16Mbps Token Ring (IEEE802.5)
100VG-AnyLAN (IEEE802.12)
100BASE-T Ethernet (IEEE802.3)
155/622Mbps 1.2/2.4 Gbps ATM
1000Mbps Gigabit Ethernet
550MHz Broadband Video
Features
Meet ANSI/TIA-568-C.2 CAT6 15M Short Link requirements.
Accept 22~24AWG, stranded or solid wire
IDC connector with large space of each pair to improve crosstalk.
Modular jack meet FCC part 68
Wiring: T568A/B
Environmental Conditions
Temperature range:
- Storage: -40 to +700C
- Operational: -10 to +600C
Relative humidity (operational): max. non-condensing 93%
Electrical Characteristics
Electrical Insulation resistance: 500 mΩ min.@ 100V d.c
Dielectric with standing voltage: 1000 V d.c. or a.c. Peak Contact to
Contact @ 60 Hz for 1 MIN.
Spring Wire Contact resistance: 20 mΩ Max.
Voltage/Current rating:150VAC/1.5A
IDC Contact Resistance: 2.5 mΩ Max
Physical Characteristics
Housing: High-impact, Flame-Retardant Plastic, UL94V-0 rated,
Spring wire: Phosphor Bronze Alloy Plated with 50 micro-inch of Gold over 70~100 micro-inch of Nickel
IDC: Phosphor Bronze Alloy with 100 micro-inch 100% Sn Alloy
Mechanical Characteristics
Retention: 50N (11 Ibf) for 60s+-5s
Insertion/Extraction life: 750 cycles minimum.
Number of IDC terminations: 200 minimum.