CAT6 24 poorts patchpaneel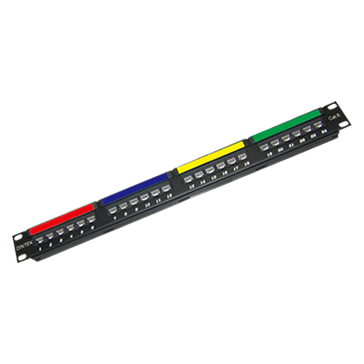 Product number: N1402-04011CH
PowerMAX™ : Gigabit High Speed Ethernet
CAT6 19" 110/Krone dual type Patch Panel 24 poorten, 1U-formaat met kleuren labels en witte labels.
De DINTEK PowerMAX™ Connectivity oplossing bestaat uit een systeem van patchpanelen, wall outlets en patchkabels om gebruikers in staat te stellen om conform het hoogste specificatie niveau van wereldwijd geldende standaarden een high speed datanetwerk te installeren.
Onze CAT6 patch panelen zijn ontworpen om ANSI/TIA-568-C.2 prestatiespecificaties te overtreffen en ze zijn backwards compatible met eerdere bedradingsstandaarden van een lager niveau. DINTEK CAT6 panelen ondersteunen zowel T568A en T568B aansluitschema's en kunnen worden afgemonteerd met een industriestandaard 110 of Krone installatie punchdown tool. De panelen zijn voorzien van een montagesleuf voor een rail ten behoeve van DINTEK kabelmanagement. Deze rail leidt bekabeling eenvoudig naar de achterkant van het paneel, voor een betere routing en overzichtelijke afmontage. Gecombineerd met andere DINTEK PowerMAX™ producten, zijn deze de perfecte oplossing voor al uw VoIP- en datacommunicatie behoeften.

Standards
UL Verified
ISO/IEC11801 2nd edition
ANSI/TIA Standard 568-C.2
CENELEC EN 50173
Applications
Voice; T1; ISDN
10BASE-T (IEEE 802.3)
6Mbps Token Ring (IEEE802.5)
100VG-AnyLAN (IEEE802.12)
100BASE-T Ethernet (IEEE802.3)
155/622Mbps 1.2/2.4 Gbps ATM
1000Mbps Gigabit Ethernet
550MHz Broadband Video
Features
Meet ANSI/TIA-568-C.2 CAT6 component level connecting hardware performance requirements
Stripped window label for easy management
110 and krone dual type IDC termination
19" 24 port patch panel, 1U size & 48 port panel, 2U size.
Accept 22~26AWG, stranded or solid wire
Modular jack meet FCC part 68
Wiring: T568A/B
Optional rear cable management
Environmental Conditions
Temperature range:
Storage: -40 to +700C
Operational: -10 to +600C
Relative humidity (operational): max. non-condensing 93%
Electrical Characteristics
Insulation resistance between any two conductors: 500 MegaOhms min.
Dielectric with standing voltage: 1000V, RMS, 60HZ, 1 MIN.
Contact resistance: 20 MilliOhms max.
Current rating: 1.5 AMPS at 200C
Physical Characteristics
Housing: High-impact, flame-retardant plastic, UL94V-0 rated, Spring wire / contact blades
Contact material: Phosphor bronze alloy
Plate: SPCC-SD 16G
Mechanical Characteristics
Total mating force: 800 GRAMS for a 8 wire leads minimum.
Retention: 30lbs min between the jack and plug.
Insertion/Extraction life: 750 cycles minimum.
Number of IDC terminations: 200 minimum.
Geschikt voor DINTEK CAT6 producten.