CAT6 24 poorts shielded patchpaneel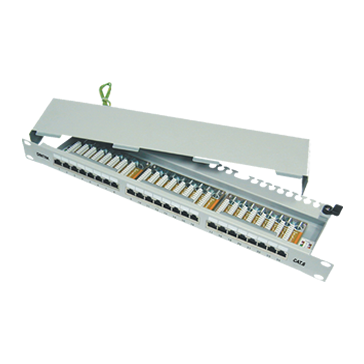 Product number: N1402-04033
PowerMAX™ : Gigabit High Speed Ethernet
CAT6 19" 110/Krone dual type volledig afgeschermd patch paneel, 24 poorten, 1U hoogte
De DINTEK PowerMAX™ CAT6 oplossingen overtreffen ruimschoots de in Class E geldende specificaties zoals vastgelegd binnen internationale normen.
Onze PowerMAX™ afgeschermde oplossing omvat CAT6 compatibele componenten zoals patchpanelen, connectoren (jacks) en patchkabels. In combinatie met DINTEK CAT6 FTP of S/FTP kabels, beschikt u over een end-to-end oplossing dat datadoorvoer maximaliseert. En dit systeem voorziet u van voldoende bufferruimte voor alle toekomstige technologieën die sneller werken dan een Gigabit. Gecombineerd met andere DINTEK PowerMAX™ afgeschermde producten en onze CAT6 kabels is dit de perfecte oplossing voor al uw VoIP- en datacommunicatie behoeften.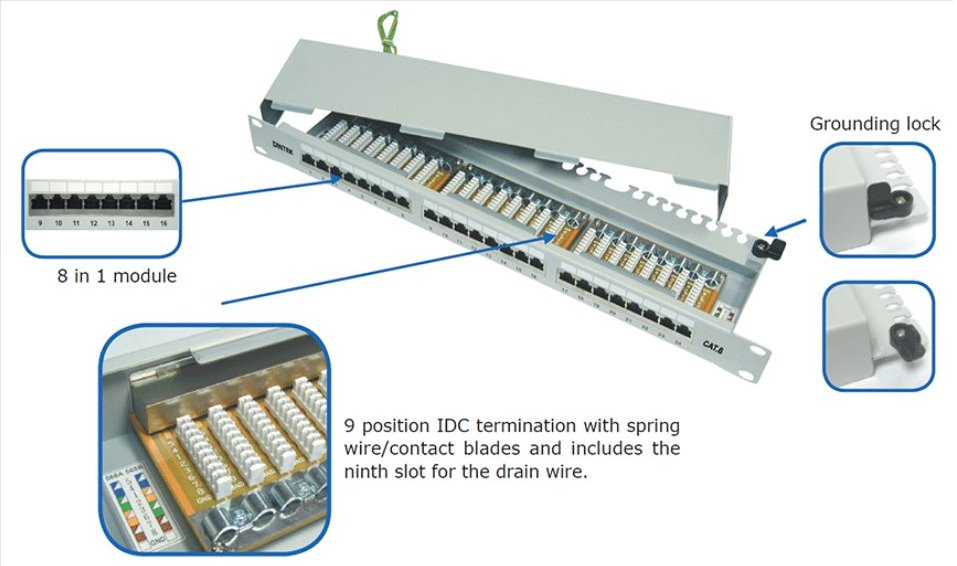 Features
Meet all category 6 channel performance requirements specified in ANSI/TIA-568-C.2
110 and krone dual type IDC termination
100% shielded for complete EMI/RFI protection.
19" 24 port patch panel, 1U size & 48 port panel, 2U size.
Accept 22~26AWG, stranded or solid wire
High durability and reliability.
Modular jack meet FCC part 68
Wiring: T568A/B
Environmental Conditions
Temperature range:
Storage: -40 to +700C
Operational: -10 to +600C
Relative humidity (operational): max. non-condensing 93%
Electrical Characteristics
Insulation resistance between any two conductors: 500 MegaOhms min.
Dielectric with standing voltage: 1000V, RMS, 60HZ, 1 MIN.
Contact resistance: 20 MilliOhms max.
Current rating: 1.5 AMPS at 200C
Physical Characteristics
Housing: High-impact, Flame-Retardant plastic, UL94V-0 rated spring wire/ Contact blades.
Contact material: Phosphor bronze alloy
Contact plating: 24Karat hard gold (50 micro-inch gold plating thickness) over 100 micro inch nickel.
Sheel: Brass alloy plated with 100 micro inch nickel.
Plate: SPCC-SD 16G
Mechanical Characteristics
Total mating force: 800 grams for a 8 wire leads minimum.
Retention: 30lbs min between the jack and plug.
Insertion/Extraction life: 750 cycles minimum
Applications
Voice; T1; ISDN
10BASE-T (IEEE 802.3)
16Mbps Token Ring (IEEE802.5)
100VG-AnyLAN (IEEE802.12)
100BASE-T Ethernet (IEEE802.3)
155/622Mbps 1.2/2.4 Gbps ATM
1000Mbps Gigabit Ethernet
550MHz Broadband Video
Standards
UL Verified
ISO/IEC11801 2nd edition
ANSI/TIA Standard 568-C.2
CENELEC EN 50173
Geschikt voor DINTEK CAT6 producten.