CAT6A 24 poorts UTP snap-in paneel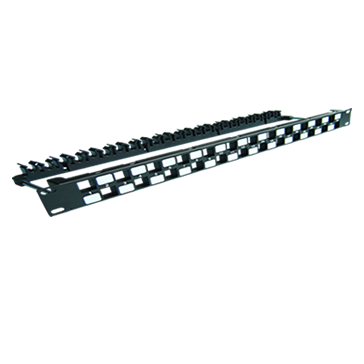 Product number: N1406-00011
UTP patch paneel
De DINTEK PowerMAX+™ Cat.6A 1U UTP patch paneel is ontworpen om uw CAT.6A netwerkaansluitingen te monteren. Hiermee plaatst u snel en eenvoudig uw keystones op een nette en compacte manier in uw patchkast.
Door gebruik te maken van een volledige DINTEK PowerMAX+™ Cat.6A oplossing verzekert u zich van een uitstekende netwerkprestaties tot 10Gigabit. De unieke verspringende bevestiging van de aderparen zorgt voor een maximale reductie van Alien crosstalk in uw bekabeling en connecties.
Physical
PLATE:SPCC-SPCC 16G
UTP Snap-in type
Printed port number and white writing labeling
Rotatable cable manager
Stagger port positioned design to reduce Alien cross talk

Geschikt voor DINTEK CAT5e, CAT6 en CAT6A keystone jacks.