CAT6 outdoor U/FTP kabel, 23AWG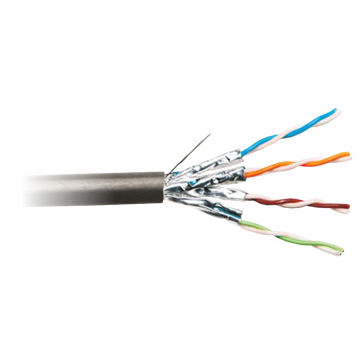 Product number: N1103-04001
305m PowerMAXTM CAT6 outdoor U/FTP kabel, 23AWG

DINTEK PowerMAXTM Category 6 4 paar outdoor (industrieel) U/FTP kabel is ontworpen om high speed Gigabit datatransmissie systemen te ondersteunen met een afstand tot 100 meter. De kabel is voorzien van een PE mantel die ervoor zorgt dat er geen negatieve invloeden, zoals UV straling en weersinvloeden op de kabel kunnen optreden. Dit artikel is leverbaar op rol van 305 meter. Deze kabel is onderdeel van het PowerMAXTM product assortiment.

Application
For Outdoor or Conduit Duct Applications
Voice; T1; ISDN
10BASE-T (IEEE 802.3)
100BASE-T Ethernet (IEEE802.3)
155/622Mbps 1.2/2.4 Gbps ATM
1000Mbps Gigabit Ethernet
550MHz Broadband Video
Standards Conformance
ANSI/TIA-568-C.2 Cat.6
2nd Edition ISO/IEC 11801 Class E
CENELEC EN 50173-1:2007
2nd Edition IEC 61156-5,CENELEC EN 50288-5-1
Products always comply with RoHS and REACH Directives.
Independent Verified Certifications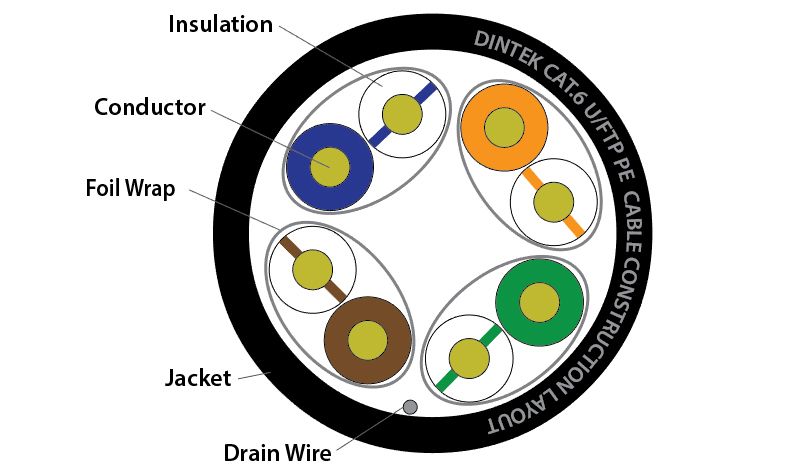 Performance statistics
| | | | |
| --- | --- | --- | --- |
| Frequency Mhz | Insertion loss dB/100mtrs | NEXT (dB) | Return loss (dB) |
| 1 | 2.0 | 74.3 | 20.0 |
| 4 | 3.8 | 65.3 | 23.0 |
| 10 | 6.0 | 59.3 | 25.0 |
| 16 | 7.6 | 56.2 | 25.0 |
| 20 | 8.5 | 54.8 | 25.0 |
| 31.25 | 10.7 | 51.9 | 23.6 |
| 62.5 | 15.4 | 47.4 | 21.5 |
| 100 | 19.8 | 44.3 | 32.3 |
| 150 | 24.9 | 41.4 | 30.8 |
| 200 | 29.0 | 39.8 | 18.0 |
| 250 | 32.8 | 38.3 | 17.3 |
Technical Specifications
Construction

Conductor
Material: Solid annealed copper wire
Wire size: 23AWG
Insulation
Material: Foam-Skin PE
Thickness: Nominal: 0.414 mm
Diameter: 1.387mm
Colors: Blue/White-Blue | Orange/White-Orange | Green/White-Green | Brown/White-Brown
Unaged Elongation(%): Min. 100%
Unaged Tensile Strength: Min. 0.816 Kgf/mm²
Screen: Aluminum-Mylar tape
Jacket
Material: LDPE
Thickness: Nominal: 0.5 mm
Diameter: Nominal: 7.2 mm
Color: Black
Drain wire: Tinned copper
Physical Ranges
Insulation
Min. Tension Strength: Before Aging Min. 0.816 Kgf/mm²
Min Elongation(%): Before Aging Min. 100%
Jacket
Min. Tension Strength:
Before Aging Min. 0.989 Kgf/mm²
After Aging: Min. tensile strength retention:75% - Aging at 100℃ for 168Hrs
Min Elongation(%):
Before Aging: Min.350%
After Aging: Min. elongation retention:75% - Aging at 100℃ for 168Hrs
Dielectric Strength: 1200 V dc or 850 V ac / 2 seconds
Min. Bending Radius: 26mm
Max. Pulling Tension: 25lbs
Installation Temperature: 0°C to +50°C
Operating Temperature: -20°C to +70°C
Electrical
Conductor Resistance: Max. 9.38 Ω/100m at 20℃
DC Resistence Unbalance: Max. 2%
Pair-to-Ground Capacitance Unbalance: Max. 160 pF/100m
Dielectric Strength of Insulation: DC 500V / 1min. or AC 350V / 1min
Insulation Resistence Test: Min. 5000 MΩ/m
Mutual Capacitance: Max. 5600 pF/100m
Impedance 1~100MHz: 100Ω ± 15%
Impedance 100-250MHz: 100Ω ± 22%